Are you sick of managing physical share certificates and dealing with paperwork hassles? If so, here's what you need! Open a Demat account and enjoy the convenience and efficiency of dematerialization. Dematerialization is the conversion of physical securities into electronic format and storing them in a secure Demat account. As a result of this system, investors have benefited from numerous advantages in the way securities are held and traded. In this post, let's understand more about dematerialization, its process and its benefits.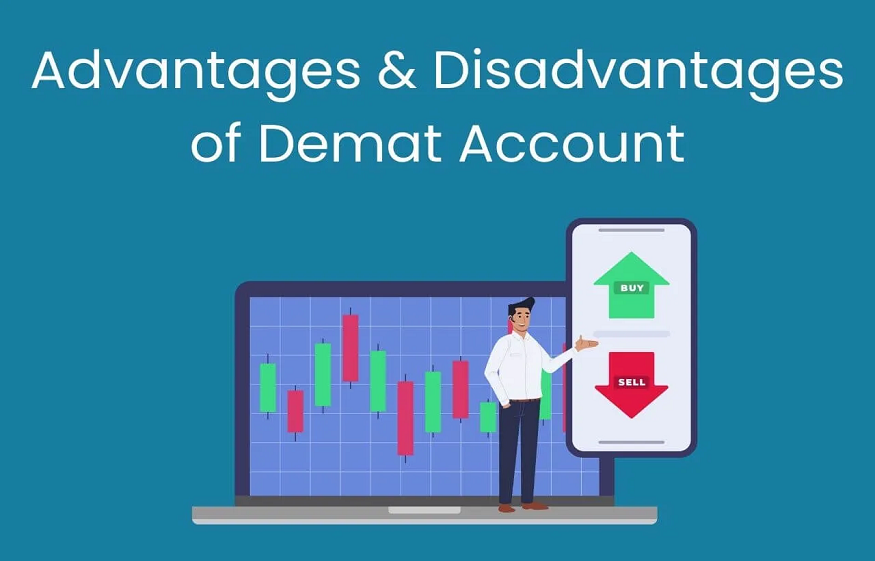 What is Dematerialization?
Dematerialization is the process of converting physical securities into electronic format and storing them in a Demat Account. The securities are held by registered Depository Participants (DPs), who hold bonds, government securities, and mutual fund units. Basically, DPs are agents who provide depository services to traders and investors. At the moment, there are two depositories registered with SEBI that are licensed to operate in India: NSDL (National Securities Depository Limited.) and CDSL (Central Depository Services Limited).
Process of Dematerialization
The following is the process for dematerialization:
The first step to dematerialization is to open a Demat account. So, to open a Demat account, you need to find a Depository Participant (DP)
Next, you need to fill out and deposit a Dematerialization Request Form (DRF) with your share certificates in order to convert physical shares into electronic forms. Also, you need to mention 'Surrendered for Dematerialization' on each share certificate.
After that, your DP will process the request and send the certificates directly to the registrar and registered agent.
As soon as the request is approved, the physical share certificates will be destroyed, and the depository will receive confirmation of the dematerialization.
The depository will confirm to the DP that shares have been dematerialized. Upon this, your account will receive an electronic credit.
Once a request for dematerialization is submitted, this cycle takes about 15 to 30 days. Moreover, you can ensure a seamless transition from physical to electronic form with the convenience of the Demat app for Android.
Benefits of Dematerialization
The dematerialisation of securities offers many benefits. They're as follows:
It's convenient: It's easy to manage your shares and transactions. Plus, you don't have to be there to do it (i.e. no need to be there physically). Also, when you buy electronic shares, you're the legal owner. Thus, you don't have to transfer certificates to the registrar.
Cost-savings: You don't have to pay stamp duty on electronic securities. A transaction takes less time because there's less paperwork. Also, by reducing paper use, the process is eco-friendly.
A nominee is included: You can include a nominee and grant operating rights to them in your absence.
Protection against errors, fraud, and theft: Using electronic transfer eliminates errors, fraud, and theft associated with paper transfers.
Loan Approval Assistance: With a Demat account, you can obtain loans against the holdings in dematerialized form. You can use demat accounts and securities held in them as collateral for loans.
Reduced Transaction Costs: Direct crediting of entitlements reduces transaction costs and administrative work, as well as boosting participation and liquidity.
Speedy e-Facility: Through electronic instructions, you get a speedy e-facility to transfer bonus shares, interest, dividends, stock splits, and refunds.
Temporary Account Freeze: A period of account freezing is available to account holders who hold a certain number of shares.
Efficient Share Transfer: With the use of signed Delivery Instruction Slips (DIS), it becomes easier and more transparent to transfer shares via a Demat account.
Convenient Communication: Agents and brokers can communicate electronically, eliminating the need to visit offices and brokers.
Increased Market Participation: A Demat account promotes higher trading volume and market liquidity, thus attracting more investors.
Multiple Purposes: Demat accounts allow you to hold, not just shares or equities, but also debt instruments. Also, it allows you to purchase, hold, and sell mutual fund units. You can even buy government bonds, exchange-traded funds, etc. in the Demat account.
Conclusion
Dematerialization has transformed the way securities are held and traded, providing investors with various advantages over traditional physical share certificates. By converting securities into electronic format and storing them in a secure Demat account, investors can enjoy convenience, cost savings, and enhanced security. Once the shares are dematerialized, investors receive electronic credits in their Demat accounts.
The benefits of dematerialization are significant. It offers convenience by eliminating the need for physical presence and the transfer of certificates to registrars. Cost savings are achieved through the avoidance of stamp duty on electronic securities, reduced paperwork, and lower administrative work. Also, to facilitate the process of opening a Demat account and experience the benefits of dematerialization, you can get valuable assistance from blinkX. With blinkX, you can easily open a Demat account online, avoiding the hassles of paperwork and lengthy procedures.