In today's technology-driven world, managing a successful hotel has become more complex than ever. While delivering impeccable service remains key, running all operational aspects smoothly is equally important. This is where the hotel management system comes in – they are like a magic wand for hoteliers! With the swish of software, these systems automate many routine yet vital processes. Not only do they ensure a seamless experience for guests, but they also optimize workflows. This allows staff to focus their energy where it truly matters – delivering memorable moments! So whether you run a boutique B&B or large chain, these systems are your new best friend in the business.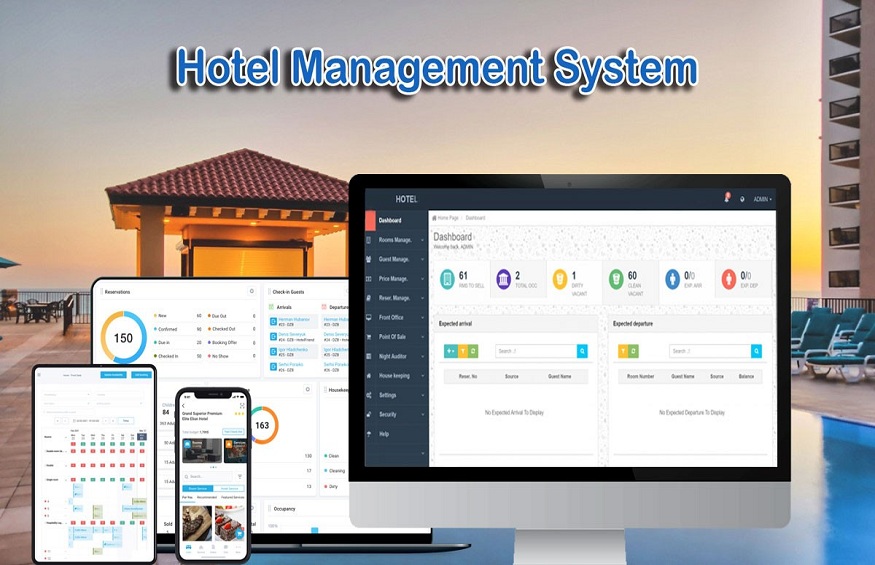 Let's look at some key benefits these systems provide for hotels:
1. Increased Efficiency and Productivity
Hotel management systems make workflows nimble by minimizing manual work. With digital check-ins/outs, online bookings, and payments, rooms get allocated automatically, saving valuable time. This allows staff to dedicate their energy entirely to guests rather than paperwork. Data is simultaneously centralized and available to authorized personnel anytime, anywhere. Thanks to features like these, systems guarantee consistency of excellent service for guests whether at the front desk, housekeeping, or across different properties of a chain.
2. Enhanced Guest Experience
With guest information digitally stored, staff can have personalized service. They can greet guests by name and be aware of any specific needs. Convenient options like online booking, mobile check-in/check-out, digital keys, and mobile billing ensure a smooth experience. Loyalty programs that reward repeat customers combined with targeted communications help increase return visits and revenue. Additionally, systematically tracking guest reviews and feedback identifies areas for improvement to enhance service quality standards.
3. Optimized Revenue Management
Hotel management systems help optimize revenue through dynamic rate adjustments and availability updates across all booking platforms. By analyzing occupancy trends and seasonal demand fluctuations, these systems devise ideal pricing strategies. They offer features to bundle services into attractive packages and efficiently handle group bookings or events. The analytics provide valuable insights into customer behavior and spending patterns. This enables hotels to craft customized monetization approaches that boost earnings from existing and new clientele.
4. Streamlined Operations and Inventory Management
Hotel management systems facilitate scientific planning and maximize productivity across key operations. Housekeeping, maintenance, and F&B services can strategically align tasks based on room occupancy, guest needs, and schedules. Systems automatically delegate duties to employees, boosting efficiency. Digital inventories and point-of-sale features help closely monitor supply usage and sales. This ensures replenishment orders are placed on time, reducing wastage to a minimum. Precise tracking results in optimized stock levels and minimal shortages.
5. Enhanced Financial Controls
Hotel management systems consolidate billing, payments, and accounts into a single integrated platform. Dashboards provide real-time visibility into financial performance across revenue streams, expenses, and departments. This empowers data-driven decisions for maximizing profits. Strict budgeting and expense control optimize resource usage. Automating accounting tasks like invoicing, reporting, and compliance saves substantial time and reduces costs. Overall, financial management is streamlined for improved efficiency and cost-effectiveness.
6. Improved Marketing and Loyalty Programs
By analyzing customer profiles and their interactions both online and in person, hotel management systems help devise focused marketing strategies. Loyalty programs integrated within the software engage regular guests with perks such as discounts, rewards points, and special offers. Advanced CRM tools nurture new customers by providing memorable experiences, ultimately developing brand advocates. This targeted approach increases repeat business and builds long-term revenue by strengthening customer loyalty and satisfaction over time.
7. Multi-property and Chain Management
Hotel management systems provide significant benefits to multi-property chains. They enable centralized management of reservations, revenue, payroll, and procurement. Standardization of templates and processes along with consolidated reporting and analytics gives leadership unified oversight and control. Resources from staff to inventory to marketing campaigns can be seamlessly allocated across locations. This fosters operational synergies and economies of scale, helping reduce costs. Most importantly, a consistent customer experience builds powerful brand value that maximizes returns for the entire group.
8. Mobile Capabilities and Convenience
Modern hotel management systems have gone mobile with dedicated apps. Guest apps allow contactless check-in and checkout using digital keys, viewing folios, and making payments for ease. Staff apps empower on-the-go management of operations with real-time updates. This ensures swift responsiveness to guest needs is never an app away. Having mobile solutions creates a progressive image showcasing the hotel's commitment to innovation. It demonstrates how technology streamlines operations behind the scenes for enhanced convenience.
9. Data Analytics and Business Intelligence
Hotel management systems come equipped with powerful analytics tools that generate deep insights. By analyzing transactions, reservations, and guest profiles, they provide detailed reports on metrics like revenue, demand trends, customer segments, and team performance. These actionable data-driven inputs help operators devise smart strategies to boost profits. With predictive analytics, hotels can also foresee upcoming opportunities and issues. Armed with future foresight, business decisions can be made with resilience against unexpected disruptions.
10. Security and Compliance
Security and reliability are top priorities for any hotel management system. Sensitive guest and payment details are securely guarded from hackers or other unauthorized access. Regular software upgrades ensure the system runs smoothly at all times without technical disruptions. Additionally, automatic data backups provide protection against the loss of important information due to technical faults. Adhering to industry-set cybersecurity standards also helps hotels maintain guest confidence. Finally, strong auditing controls within the system guarantee operational and financial transparency for hotel owners. With such robust features, hotels can be assured of compliance as well as continuity of business operations.
Conclusion
In summary, the implementation of a hotel management softwarec an result in significant benefits for operators of all hotel types and sizes. By automating key operational processes related to reservations, inventory management, housekeeping, and financial controls, hotels improve efficiency and productivity. Enhanced revenue management and data-driven decision-making allow for optimized pricing and profitability. Providing seamless digital experiences for guests through features such as mobile check-in/check-out, digital keys, and loyalty programs strengthens customer satisfaction and loyalty. Gaining actionable insights from analytics helps devise strategies for long-term business success. When the right system is chosen to suit specific business needs and integrated strategically, hotels realize tangible returns through streamlined operations, increased revenues, and improved guest satisfaction – making it a worthwhile investment.